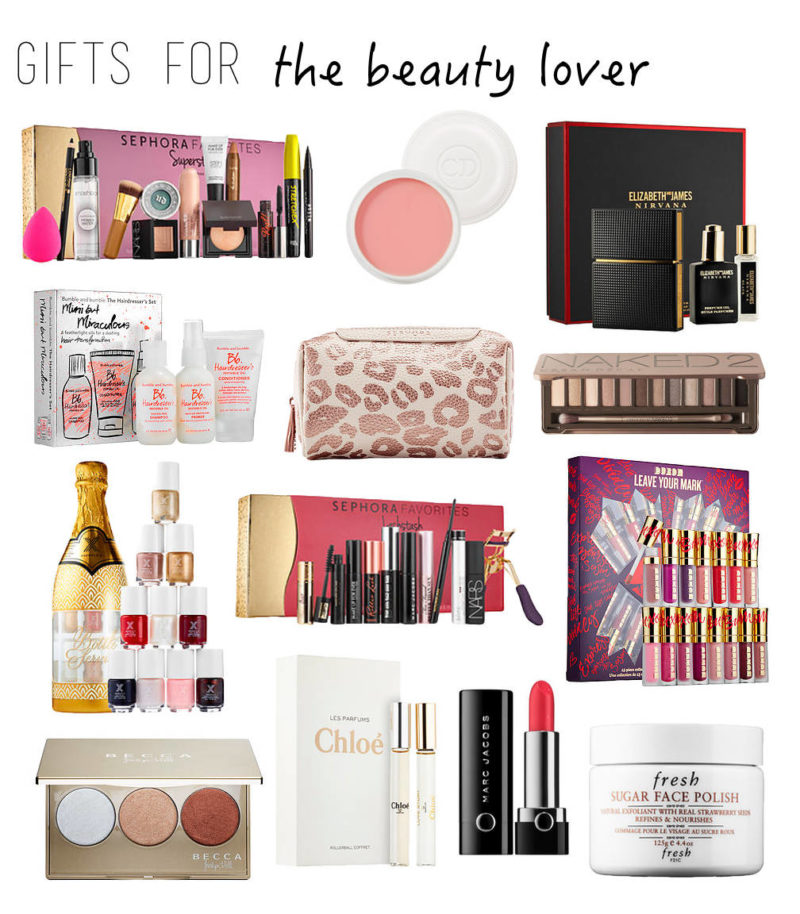 Sephora Favorites Superstars Set | Dior Creme de Rose Smoothing Plumping Lip Balm | Elizabeth and James Nirvana Black Gift Set (love this scent and very versatile) | Bumble and bumble Mini But Miraculous Set (favorite hair products) | Sephora Collection The Escapader Makeup Bag (under $20 and comes in black) | Naked2 Palette (I got this one as a gift and love it) | Bottle Service Nail Polish Set | Sephora Favorites Lashstash Set | Buxom Leave Your Mark Full-On Lip Polish & Lip Cream Set | Becca Shimmering Skin Perfector Palette | Chloe Rollerball Duo | Marc Jacobs Le Marc Lip Creme Lipstick | Fresh Sugar Face Polish
With the holidays full steam ahead, I thought I would share a few gift guide ideas for each person on your shopping list. First up is an easy one to buy for – the beauty lover. I picked a few items that are on my personal Christmas list as well as a few of my favorites or items I've received as gifts that I really love. I think gifting sets like the Superstars set is great because they've already done all of the thinking for you and put together a handful of must haves. I also really like the Lashstash kit if you know the person your gifting to is looking for a good mascara, this would give them a ton of options to test out. You can also never go wrong with a perfume set like this Elizabeth and James Nirvana set (really like this scent).
If you're looking to get more creative, I thought it would be cute to grab this Sephora makeup bag or something similar and fill it with a few different products like the Dior lip balm and Becca palette together. I love doing gifts like that because its a gift inside of a gift – double win! And can I just mention how cute the Bottle Service Nail Polish Set is for your girlfriends or even as a hostess gift for a holiday party? Obsessed!
I hope you guys enjoyed this gift guide for beauty lovers – stay tuned for more gift ideas coming soon!